Tina Leigh, Broker-Owner, Realtor
Serving the Dallas/Fort Worth Metroplex
English
(972) 824-0631
(972) 824-0631
www.tinaleighrealty.com
As a Native Texan who grew up in Dallas with a second home on Lake Austin and a third home in Houston, you could say Texas has always been my home… more particularly Dallas / Fort Worth. In the 1960s, my parents met while attending Texas Tech.  Both came from strong European backgrounds and were very successful in business.  My father graduated with three Master's Degrees, was a Pilot for the Navy, then became an Engineering Headhunter for NASA until he retired.  My mother supported my father during his time in the Service.  Following, she gained employment with Texas Instruments until she retired.  She then ventured on to assist Presidents of successful businesses throughout the remainder of her professional career.  Being raised by business minded parents taught me the skills of success, which inspired me to become a business owner. Why a Real Estate Professional? As I grew up in Dallas / Fort Worth, my love for real estate developed. I was always intrigued by the beautiful homes and buildings. My parents and I would admire the architecture with their unique designs.  We'd reflect on the land and wondered who may have roamed the property before it was constructed.  I grew up visiting my grandfather's home which was, and still is, a beautiful Frank Lloyd Wright design on Abrams Road in Dallas as seen here: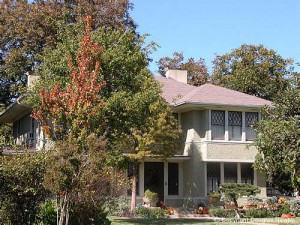 Also, at a very early age, my love for staging and interior design began. My parents would allow me to rearrange furniture and paint the walls of my family home whenever I felt the need for a change. I enjoyed creating artistic decor out of things lying around the house which they put on display. They were very supportive and allowed me to express myself. Passionate about the various aspects of real estate, I was elated to learn in college that I could become a Realtor. Initially, I received a Real Estate Certification through Dallas County Community College's two year program. I continued my studies in pre-law, business and psychology at DCCC and University of Texas at Dallas. While attending college, my real estate career initially began in 1990.  I was hired to be the Office Administrator for a large RE/MAX real estate agency.  A few years later, I found myself running the sales office of the Tybrisa Beach Resort located in Savannah, Georgia. When I returned back to the Metroplex, I continued with my college studies while working six years as a Legal Assistant / Paralegal for a prestigious Downtown Dallas law firm.  In 1997, I obtained my Real Estate Salesperson's License through the Texas Real Estate Commission and immediately began working for RE/MAX All Cities, where I earned the Top Producer, Top Selling Agent and Top Listing Agent awards for the year.  This continued until I obtained my Real Estate Broker's License in 2005, where I immediately opened the doors to my boutique brokerage, Tina Leigh Realty. During my real estate career, I've obtained real estate certifications in the following extended areas:
CNE – Certified Negotiation Expert (2011)
SFR – Short Sale & Foreclosure Resource Specialist (2009)
ePRO – Internet Professional Certification (2008)
NHC – New Home Construction (2004)
GRI – Graduate of the Realtor Institute (2004)
ABR – Accredited Buyer Representative (2004)
SRES – Senior Residential Specialist (2004)
Collin County Association of Realtors (Since 2001)
MetroTex Association of Realtors (1997-2001)
Women's Council of Realtors (Joining 2016)
Texas Association of Realtors (Since 1997)
National Association of Realtors (Since 1997)
Additional real estate studies include:
How to Prepare Your Listing to Sell Quickly (2017)
All About Signatures (2017)
Marketing, Advertising, and Social Media Compliance (2017)
Selling to Your Sphere of Influence (2016)
Broker Responsibility Course (2012, 2016, 2017)
Tech or Treat (2015)
Prospecting with Trends & Strategies (2014)
Agency Liability & Other Issues (2012)
Short Sales & Foreclosures:  What Real Estate Professionals Need to Know (2009)
How to Buy Texas Foreclosures (2009)
How to Prepare Your Listings to Sell Quickly Online (2008)
Agents Gone Wild: Don't Try This at Home (2007)
Life in the 6 D's: Defects, Discovery, Data, Disclosure (2007)
Property Management I (2005)
Law of Agency (1997 & 2005)
Real Estate Principles II (1997 & 2005)
Successful Buyer Representation in New Home Sales I & II (2004)
Effective Buyer Representation I & II (2004)
Senior Real Estate Specialist Course I, II & III (2004)
GRI I & II Finance & Property Management (2004)
Texas Tech University, CPD – All About Mortgages I, II & III (2002)
Law of Contracts (2000)
Real Estate Marketing (1997)
Real Estate Math (1997)
Law of Agency (1997)
Principals of Real Estate (1997)
TREC Mandatory Ethics Update MCE as required (1997 to present)
TREC Mandatory Legal Update MCE as required (1997 to present)
In addition to working as a Real Estate Broker, I have served or am currently serving with the following:
President of the Windy Hill Farms Home Owners Association of 450 +/- homes (2014 – 2016)
TREPAC Contributor (Since 1997)
Volunteer for the American Red Cross (Since 2015)
Member of the Colleyville Chamber (Since 2015)
Member of the Colleyville Women's Club (Since 2015)
Board Member and Supporter of GoMAD Ministries (Go Make a Difference) (Since 2014)
Member of the Plano Chamber of Commerce (Since 2013)
Member of the Murphy Chamber of Commerce (Since 2001)
Prior TA for Inspired STEPS (an at-risk teen ministry)
Prior TA for Pathways Family Teen Camp (an at-risk teen ministry)
Prior Connection Group Leader for Chase Oaks Church middle school students
Attended mission trips to various areas, including Dominican Republic and Arizona
Designated All-American Scholar (1995 – 1996)
Selling real estate is in my heart.  I've truly been blessed to enjoy such an amazing career, which I plan to continue throughout my lifetime.  I've made wonderful friends along the way.  I've enjoyed watching families make houses their homes.  To me, there's no greater joy than being surrounded with family and friends, sharing life while having a home to make beautiful memories in.  I always give thanks to the One who provides, as He has provided me with a blessed family, including my amazing son, and a comfortable home here in the fabulous D/FW Metroplex.  I cherish every moment I have with them. As one who has a heart to serve, it would be a blessing and honor to have the wonderful opportunity to be your Real Estate Broker for life.